On Friday October 14th the 6th grade students from all 3 elementary schools came up to the Sr/Jr High for a STEM gifted day. Students discussed the engineering design process and then used the new knowledge to complete a STEM kit. After many attempts, solutions were created and the students worked collaboratively to share their findings with their classmates.

After a relaxed lunch, students learned about the new 3D printer and CAD designing using TinkerCAD. The students created their first design together. Check it out, it is the "Trump Chicken."

Powered by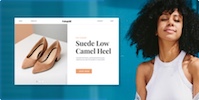 Create your own unique website with customizable templates.