The 3D printer in Mrs. Young's room at the Jr/Sr high is connected and students have started to explore! Senior high students will be independently working on how to use the software and programs in order to design an independent project or be a student mentor to an elementary of junior student.

At the end of September/beginning of October junior high and elementary students will be presented with real-world STEM situations and use the engineering design process to solve a problem and then create a prototype using the 3D printer. In this process all students will be introduced to CAD software as well.

It is an exciting time! Below is an image of the first student-product made with the 3D printer!


Powered by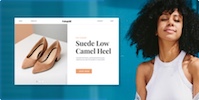 Create your own unique website with customizable templates.